Banishing Perfectionism Forever
There it is on my vision board – big and bold, the red circle with a line through the centre stamping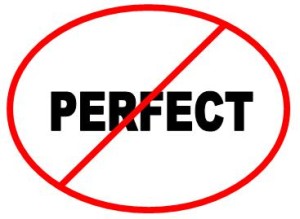 out perfectionism. I am excited, excited that I have finally, really, truly committed to banishing my perfectionism forever. After all I'm tired of trying to be perfect, and of course, it doesn't work to keep me free from judgment or criticism. I can't be perfect, there's no such thing, so inevitably I end up judging and criticizing myself.
But in all my excitement, I'd forgotten a very important piece – that letting go of a coping mechanism means uncomfortable and unexpected parts of me must arise.
It was only 3 days later when an old addiction surfaced quite by surprise. I mean, really I didn't see it coming at all. I was totally blind sided. So in my determination to get to the bottom of it, and because I like to do things perfectly, I diligently began my work of digging deep into my unconscious. I needed to know why this part of me had surfaced.
I signed up for an online Shadow Course using archetypes. The universe gently opened up my busy schedule so I had the time to indulge in my own inner work.
I learned that the addict archetype, was in fact answering my call to stamp out perfectionism. After all, there can be no absolute imperfect aspect of my human condition as addiction. This was very enlightening, and unnerving. What more was going to surface? I was afraid to think.
But thankfully, that very enlightening piece was the worst of it, although chaos did ensue.
During this time, my email program stopped working properly, so there was the backtracking and apologizing for emails not replied to. Certainly not perfect.
In compliance with the anti-spam laws, because I'm going to do it perfectly, I sent an email campaign with all the right information and a wonderful little link to sign up to my newsletter – all in proper compliance with the new regulations. Only to discover as it leaped into over 500 peoples email boxes that the link didn't work properly. It was embarrassing and very frustrating and definitely, not perfect.
And then there was the "dogs breakfast" someone quoted to me, as I was helping to organize an networking event for the Chamber. I was given a directive – or so I thought – and in my need to do it perfectly, I took initiative where it wasn't needed thereby usurping process. Now there was definitely a lack of communication not entirely on me, but nonetheless, it was quite clear – I was not perfect and the perfectionist in me was definitely being thwarted – and it hurt.
So you know that old adage, be careful what you ask for, I think this is a perfect example (no pun intended here, really). But what it really means is that when we want something new, or we want to let go of something old that no longer works for us, there will be unexpected situations and experiences that are uncomfortable, hell, darn right painful, but it's all part of the wonderful process of growth and evolution.
Ah yes, my intention to banish my perfectionism. I think I am doing this quite perfectly!