Interactive presentations for your
Organization, networking event or women's group
Karen Laskey is available to present the revolutionary speaking event "Blocks to Breakthroughs" to your organization, networking event or women's group.
This powerful 40 – 90 minute interactive presentation focuses on how your subconscious mind and conditioned beliefs influences your life and behaviour. Participants will be introduced to skills that can be used to transform their work, health and relationships.
Emphasis will be placed on concepts and examples that are appropriate to the needs of your group.
For Organizations:
Help your sales team break through their limiting beliefs so they can start to break through their quotas.
Show your customer service personnel how to maximize their potential so they can feel fulfilled in their role and maximize efficiency.
Teach your staff how to build their confidence so they can contribute their ideas and expertise towards the success of your company.

For Business Networking Events:
Show members how they can break through the blocks that are holding them back from success in business so they can succeed beyond their wildest dreams.
For Women's Groups:
Teach women how to spot their limiting beliefs and get out of the "groundhog day effect" of doing the same things over and over so they can move forward and feel productive in all areas of their life.
Show women how to recognize relationship patterns that keep them from building true intimacy so they can create true connections, loving relationships and fulfilling lives.
book Karen to present at your next event
call: 778-397-5300 or email: karen@laskeytherapy.com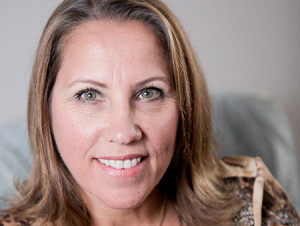 Karen Laskey is a Counsellor & Hypnotherapist in private practice in New Westminster. She has been working with people for over 18 years, helping them to achieve success in all areas of their lives – relationship, health, finance and business.
With her expertise in human behaviour and the subconscious mind, she will help you uncover and transform unconscious beliefs, patterns and blocks, and help you make profound changes in yourself and effectively create what you want in life.
Karen has presented "Blocks to Breakthroughs" for Sales Directors of Mary Kay, New West Women's Networking Group and the staff of The Justice Institute, with wonderful results.
Karen's Presentation was amazing!
"I found Karen's presentation to be AMAZING!  In a few simple steps we truly can change our thoughts and our feelings and then begin a new journey on our Beliefs!  And once we change our Beliefs, we can change EVERYTHING!!!!  Thank you Karen for making me believe that all things are possible!!!"  Char Milligan,  Sales Director
---
blocks to breakthroughs presentation



Discover the hidden causes of stuckness, procrastination and self-sabotage which are preventing you from achieving your goals, realizing your potential and living the life of your dreams.
Unwanted behaviour. lack of motivation, feeling lost or stuck – these experiences are the result of subconscious belief. When we become stuck in our careers, jobs or in life, it is because of a belief that has taken hold of us in some way, not our desire, knowledge or skill level.
Karen will speak about the power of the subconscious mind and the influence that power has in our ability to create our lives.  She will share why our best intentions are thwarted by our own subconscious power, and how to purposefully connect to that magnificent power in order to break through blocks.
In this presentation, you will:
Learn how your beliefs and subconscious mind conspire to sabotage your success.
Identify the blocks that are preventing you from achieving your goals.
Learn a three-part process for blasting through blocks and moving forward towards the life of your dreams.
book Karen to present at your next event
call: 778-397-5300 or email: karen@laskeytherapy.com
 "When you change your beliefs, you change everything"